Aluminum continuous melting and holding furnace
Molten metal circulation type aluminum continuous melting and holding furnace
Casting defects due to temperature variations do not occur.
Degassing (GBF) treatment is performed in the tank that treats molten aluminum, and after the treated molten metal moves to the pumping tank, it circulates and returns to the treatment room to be degassed again. Since the molten aluminum passes through the treatment tank many times and is treated, the molten aluminum in the pumping tank is always kept free of impurities. In addition, since molten aluminum is constantly circulated, the temperature is kept constant, and casting defects due to temperature variations do not occur.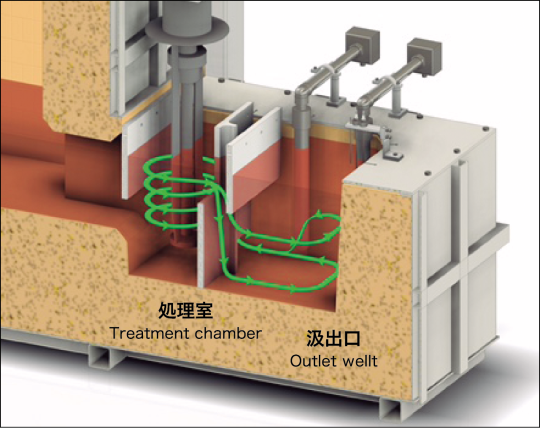 ・By rotating the GBF device, ascending flow, and the shape of the partition plate, a continuous molten metal circulation flow is created between the processing chamber and the pumping outlet, and the molten metal cleaning effect is obtained.
・Molten metal circulation improves the uniformity of top and bottom temperature between tanks.
・Efficient heat utilization is achieved through molten metal circulation in the molten metal holding part.
・By continuously circulating the inside of the tank, the amount of molten metal gas that accompanies movement between tanks is suppressed.
Molten metal circulation simulation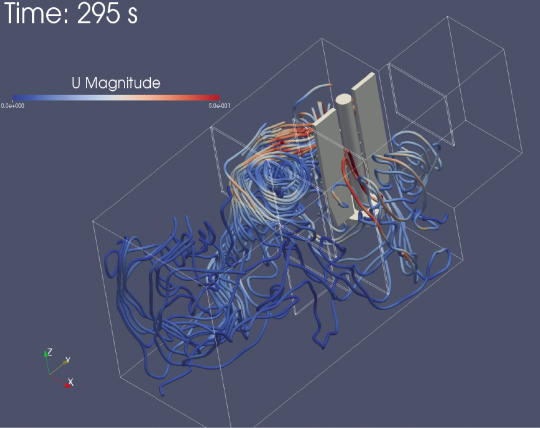 Simulated image (streamline) using OpenFOAM software Verification of flow of continuous circulation of molten aluminum due to rotating flow and upward flow of GBF equipment. The fluid (aluminum) is treated as an incompressible fluid, and its density, viscosity, and surface tension are reflected, and a method (VOF: Volume of Fluid) is used to determine the movement of gas and liquid with a single formula. The molten metal flow generated in the GBF unit reaches the entire pumping port.
Specifications/capacity
| | |
| --- | --- |
| Dissolving capacity/holding capacity | 500kg/h・1,300kg |
| Melting burner, holding burner, holding heater | 300,000kcal/h・150,000kcal/h・8KW×3 |
| Molten metal gas volume/K value (visual observation) | <0.4cc/100gAL・<0.05 |