Aluminum continuous melting and holding furnace
pot melting system
Aiming for a melting furnace that can flexibly respond to any production situation
Product features
melting pot
Optimal control of pressure, flame, and exhaust flow in the pot enables efficient melting in a short period of time.
We will design a pot that is suitable for the material used by the user, such as increasing the melting space by installing an intermediate lid, and simultaneous melting of return material and ingot material.
After melting, the pot can be transported by a forklift, etc., and supplied to the hand furnace without transferring the molten metal.
There is little surplus air in the melting chamber, which suppresses the generation of oxides and is excellent in maintainability.
High-performance refractory materials that can withstand high heat loads are used and have sufficient durability.
Comparison with central melting furnace system
1
Central melting furnace system
"Centralized melting furnace", "Conveyor for ladles", "Hand furnace"Requires 3 separate devices.
Retaining molten metal during non-operation such as nights and holidayslarge energy loss.
Dissimilar alloy melting is impossible.
When adding a die casting machine, it is necessary to install a furnace with a capacity that can handle all the planned number of machines.Generates large losses when updating plans.
Dangerous work (draining tap work) is required,Risk of water leakage.
"Pot melting furnace" equipped with material input and "hand furnace" in a series of flow from melting to metal distributionOnly 2 separate devices required.
Efficient dissolution of the required amount in a short time at the required timeand can be quickly supplied to the hand furnace.
By installing multiple pots,Dissimilar alloys can be melted.
By installing multiple units, it is possible to adjust the amount of melting according to the production situation.Reduce investment risk.
Dangerous work (draining tap work) is unnecessary,Operate safely.
Introduction example of pot melting furnace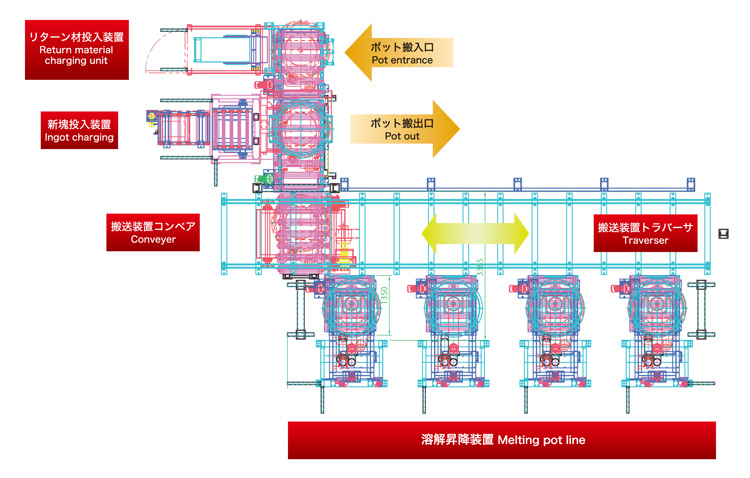 Specifications/capacity
| | |
| --- | --- |
| pot capacity | Aluminum 350kg/pot |
| melting burner | Heat exchanger burner (250,000kcal/hr) |
| Melting capacity | 350kg/hr |
| LPG basic unit | 0.035 Nm3/kg |
| Grade | Supports 2 types |