Aluminum continuous melting and holding furnace
Preserve Furnace
Towards effective use of thermal energy
Since the combustion space of the holding chamber is large, radiant heat is large, and special high-alumina bricks are used especially for the floor of the melting chamber in consideration of strength and wear resistance.
Product features
Pre-serve furnace with SPW burner
The SPW burner has a built-in heat exchanger that recovers waste heat from the melting and holding chambers and reuses it to preheat the combustion air.
The melting chamber, where the amount of combustion is particularly high, is equipped with a flow path for circulating exhaust heat, and is structured to maximize the heat exchange function of the burner.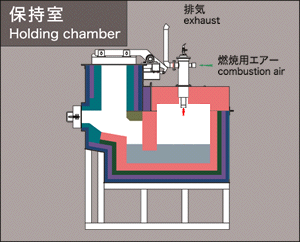 Pre-serve furnace with immersion heater
The immersion heater in front of the spout eliminates unevenness in the molten metal temperature at the spout and supplies high-quality molten metal.
When holding on holidays, the heater is used only for holding, which has the effect of saving energy and reducing CO2 emissions. In addition, a safety measure is taken to operate the holding burner in the event of a heater failure.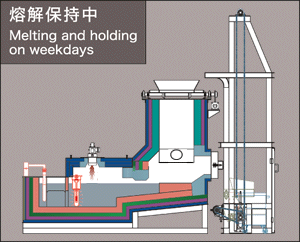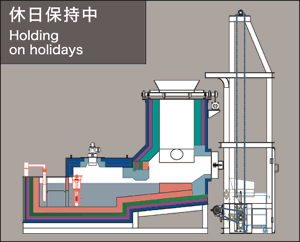 Product specifications

| | | | | | |
| --- | --- | --- | --- | --- | --- |
| Model | NKT-1040 | NKT-1550 | NKT-2580 | NKT-3010 | NKT-5015 |
| Dissolution amount [Kg/hr] | 100 | 150 | 250 | 300 | 500 |
| Retention amount [kg] | 350 | 500 | 800 | 1,000 | 1,500 |
| Melting burner capacity [Kcal/hr] | 50,000 | 80,000 | 120,000 | 150,000 | 300,000 |
| Retention burner capacity [Kcal/hr] | 50,000 | 80,000 | 120,000 | 150,000 | 200,000 |
| A Furnace body width [mm] | 1,160 | 1,400 | 1,500 | 1,550 | 1,800 |
| B Furnace body length [mm] | 2,495 | 2,880 | 3,050 | 3,250 | 3,650 |
| C Furnace body height [mm] | 1,750 | 2,000 | 2,250 | 2,250 | 2,600 |
| D Pumping outlet height [mm] | 750 | 800 | 850 | 850 | 900 |